Child Support Attorney In Texas
Texas Child Support Lawyer
Your child support lawyer can help you protect your child's future during a divorce.  The lawyer can work with you to create a child support arrangement that will make it easy for your child's needs to be met. You should also talk to an experienced child support lawyer when you are seeking to modify or enforce child support.
How To Determine A Child Support Arrangement
Child Support And Divorce Lawyer In TX
Parents have a legal duty to support their children financially whether they are married or divorced. During a divorce, couples have to figure out how they will continue offering this support to the children. They can negotiate and reach an acceptable agreement that a court can approve.
In case they cannot reach an agreement, it will be up to the court to decide who will pay the child support and how much they will pay.  The legal definition of a parent is the biological mother and the biological father, the person that signed an acknowledgment of paternity, or an adoptive father or mother.
How Long Will You Pay Child Support?
TX Attorney Child Support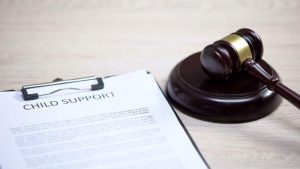 Non-custodial parents often have to pay child support until the child reaches 18 years old or graduates from high school. You can also stop payments if the child gets married, is emancipated, dies, or when the court issues an order for you to stop.  Child support payments may continue after the child reaches 18 years old and graduates from high school, if the child is disabled.
How Much Do You Pay For Child Support?
Child Support Lawyers In Texas
There are guidelines that can help you calculate the amount you may have to pay every month as child support.  The amount you pay is determined by how much you earn every month after certain deductions.  There is also a presumptive amount of child support on higher wage earners for child support and the financial needs for the children must be established to support requests for child support in higher wage earners higher than the presumptive amount.  For example, for a parent with net resources of $9200.00 a month and two children, for child support to be higher than 25% of $9200.00 a month, or $2300.00 a month in child support, the obligee (parent receiving child support) must establish that the monthly financial needs of the children are greater than $2300.00 a month.
The court will consider the following income sources when calculating the amount, a non-custodial  parent (obligor) has to pay every month:
Your salary
Overtime
Tips
Interest dividends and royalty income
Trust income
Retirement income
Royalty income
Bonuses and commissions
Rental income and other income sources.
They will calculate the gross income and then deduct items such as federal income tax, Social Security income, and health insurance premiums.  The monthly net income is then calculated by dividing the amount by 12. Once the monthly net income is calculated it will be multiplied by a percentage determined by the number of children the noncustodial parent is supporting.
For example, for one child you multiply the net income by 20 percent, and for two children 25 percent, and so on.  If you have children from more than one parent and you are supporting other children, the percentage changes.   This can occur if you are divorced and have another child with someone else that you support.
Why You Need An Austin Child Support Lawyer
Child Support Law Firms In TX
An experienced child support lawyer understands that you love your children and want their future to be protected. Your lawyer can help you ensure that your child's needs are protected. Parents paying child support can also work with a lawyer to calculate the estimated amount they have to pay every month.  Most of all, your lawyer can help preserve your legal rights and protect your finances.
Find Austin Child Support Lawyers Near Me